RKT - Trooper - Drop Point - Black - Serrated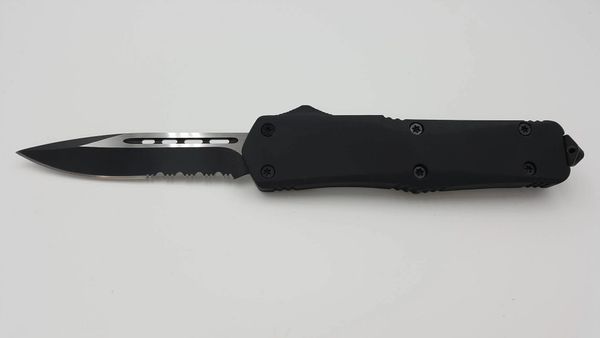 RKT - Trooper - Drop Point - Black - Serrated
The Regicide Trooper is a double action OTF knife. The blade is made of AUS-8 steel available in either a satin or matte black finish. Double action means that with pushing the button forwards will extend the blade & pulling it backwards will retract the blade - as easy as that. The pocket clip is stainless steel and can be reversed to accomodate both Righties and Lefties. The clip rides low so your knife wont be as noticeable in your pocket. The base of the knife has a metal stud, or 'glass breaker' in case of emergency - "When in a pinch, Punch".
The Trooper is a safe pocket carry - it has an internal safety design that will not allow the blade to fully extend if it encounters an obstruction while opening. If this happens the blade will need to then be reset by pulling (or flicking) it fully out. It will then be ready for use again.

Blade - AUS-8
Handle - Aluminum alloy
Stainless steel pocket clip - Adjustable for Righties or Lefties
Stainless steel glass breaker stud
Double-action operation
Blade length - 3.75"
Overall length - 9.25"